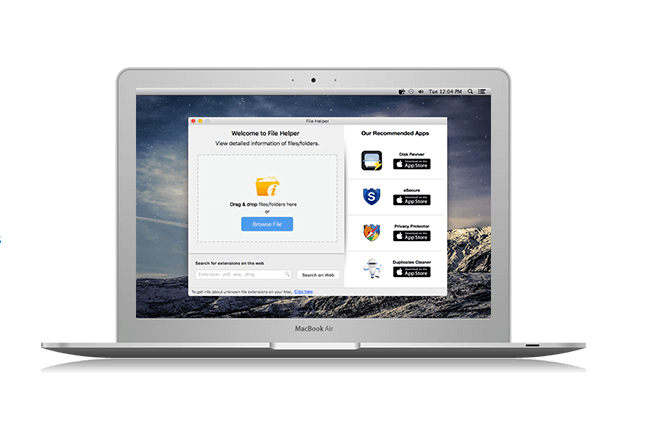 File Helper Mac App – To Open Any File on Mac
Last Updated on September 5, 2018
There are multiple files present on our Mac. Among these files, several files belong to unknown file extensions. Having those many proprietary file extensions and formats on your Mac develops the need of getting the right application to open your unrecognized file. Finding the right app can be very difficult and even if you're able to determine which application your file needs, This entire process is bit challenging. But now no worried the File Helper Mac App To Open any File on Mac you can use.

What is File Helper?
File Helper app is your Macbook companion that helps you get every bit of information about any file present on your Mac. When you choose the file or folder for which you want to know anything, it also suggests the apps that are compatible with your file. This app takes very less disk space and performs a number of functions for you.
File Helper app runs a scan on your system that detects file types that your computer can't open. It will then recommend applications that will allow you to open these files, based on our team's analysis of each file type. These applications will let you open, and sometimes edit, the unrecognized files on your computer.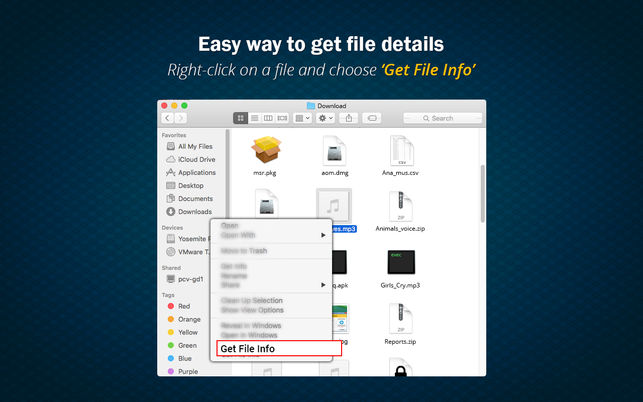 Open unknown files: File Helper app has a large pool of recommended applications that can open your unrecognized files.
Huge database of file types: File Helper is driven by its enormous, human-created database of file types.
Continuous updates: The file type and application database are constantly updated by the same support staff that serve you. If File Helper doesn't find your file type, contact our support team and we'll add it right away!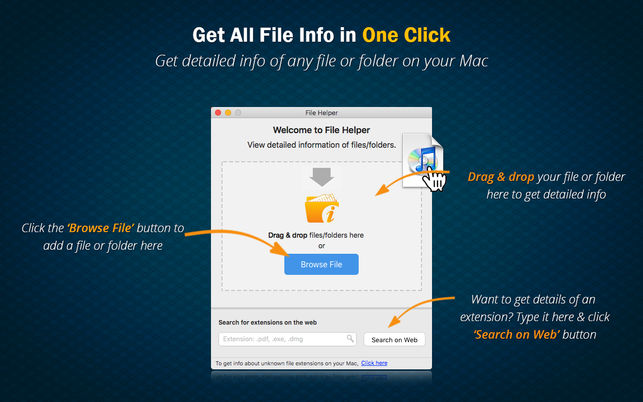 To use File Helper app, launch the application on your Mac machine. Next is to simply drag the file or folder you want to get info about. You don't have to follow any complicated procedure in order to use this app.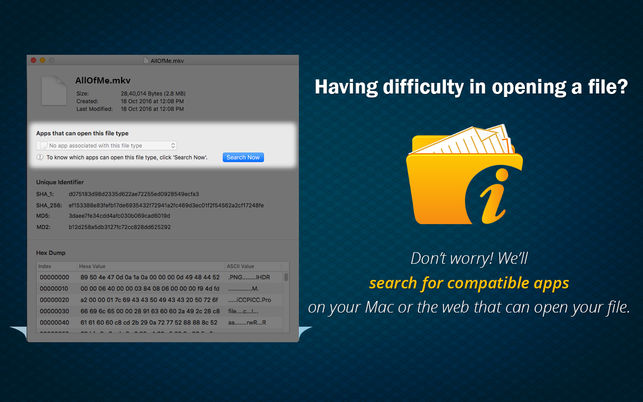 Through this app, you can easily view and open any file & application which are compatible to your specific file extensions so that it become easy to read the file.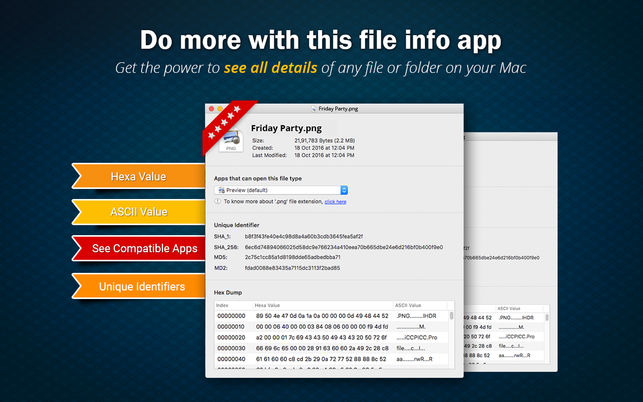 File Helper lets you get all the details of the file or folder you want very easily. You have to simply right click on the selected file and choose the option ' Get File Info'. The complete information will appear on your Mac screen in no time.
Why Use File Helper?
It is a wonderful choice for all the Mac users and this app is completely free. To use this app, you don't have pay any penny. Simply download from the App Store and launch this app on your Mac machine.
From minor details like 'Last Modified On' to detailed info like 'Hash details', 'Hex Dumps', you will get just everything about any file or folder of your choice with the help of File helper mac app. Moreover, if you find any difficulty in opening a file, this tool can even search suitable apps on your Mac, if possible or on the web, to find the app in which your file can be best viewed in.
Now available on the Mac App Store.
Related Posts:
History Fixer App For Mac – Remove XXX History
Memory Optimizer Pro – Best Memory Cleaner App For Mac
Disk Cleanup Pro for Mac – Best Mac Clean Up App
Disk Reviver App To Speed Up & Clean Up Your Mac
Best Music Apps MAC
Best OS X Apps 2018 – Latest & Essential MAC Apps