Ad Blocker Addon For Windows – Remove Unwanted Ads & Malware
Last Updated on October 10, 2018
Want to get rid of those annoying ads?
Hate pop ups and other such annoying ads that interrupt your smooth online browsing. Thinking how to remove them? these question are running in your mind,
How do I block ads on my PC?
How do I block ads on my laptop?
How can I block pop up ads?
What is the best ad blocker?
How to Remove Ads from Windows
How do I stop pop up ads on my computer?
How do I get rid of pop up ads on my desktop?
How do I remove adware from Windows 10?
You may want to choose an ad-blocking Addon that lets you to stop ads from filling up your screen. But downloading a wrong app can arise a whole new set of problems with your Windows system. So which is the right ad blocking app to use?

Try Ad Blocker. Installing Ad Blocker Addon for Windows will block all types of ads from showing up on your screen so that you can enjoy a fast and secure browsing experience.
What is an Ad Blocker Addon for Windows?

Ad Blocker is the best tool for your web browser that blocks annoying ads for a safe and unrestricted browsing. Using this ad blocking tool, you can enjoy the content you want without any delay in downloading the ads.
#1 extension currently for Chrome, Firefox and Safari allows you to visit your favorite websites without being barred by those product sellings ads etc.
How will Ad Blocker Addon help you?

The Windows Ad Blocker Addon extension makes your windows system ad-free with its powerpack features which are:
Blocking Ads
Disabling Scripts
Blocking Social Plugins
Allowing non-intrusive ads
Blocking Ads (Get Rid of Pop up ads on from your desktop)
Ad Blocker for Windows blocks all types of ads on your web browser. These ads include Facebook ads, pop-ups and pop-unders on websites, YouTube ads etc. It blocks all annoying ads such as pop-ups, pop-unders, flashy banners and other types of irritating ads.
Disabling Scripts
Whenever you surf the internet, all your online activities are tracked by several websites through scripts. The tracking scripts is injected into sites to track your online behavior.  With Ad-Blocker, you can easily disable your tracking info and browse privately.
Blocking Social Plugins (Stop Random Advertisements on Your Computer)
Most of the websites use Social icons to share content on on social medias such as Facebook, Twitter, Instagram or Google+. No matter you clicked them or not, they will gather your browsing information and will target ads based on them. When you install Ad blocker addon, it will give you the control tom block those social plugins.
Allows Non Intrusive Ads
There are a number of websites which use ads to generate revenue. Ad-Blocker permits such non-intrusive advertising, i.e., allowing acceptable ads and blocking the ones which are inappropriate and annoying. However, you still have the control to block these ads if you want.
Why choose Ad Blocker for Windows?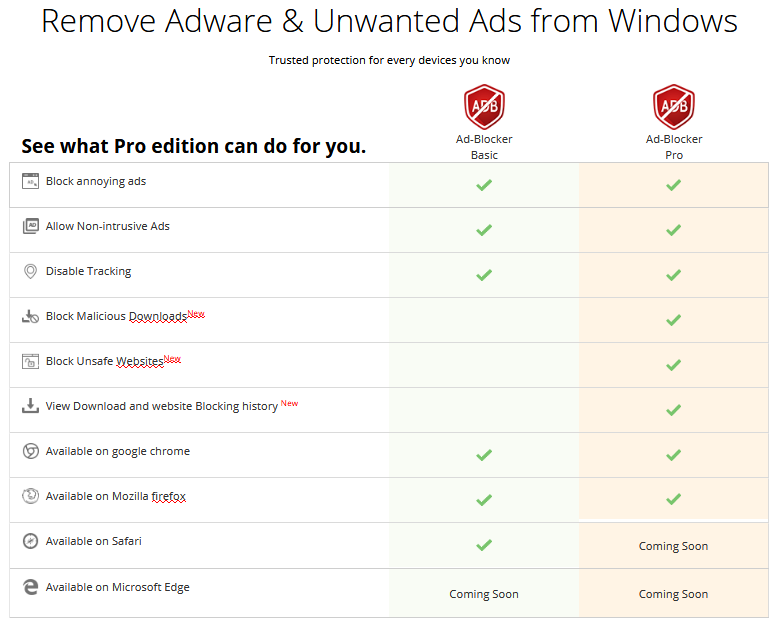 This ad blocking app will enable you prevents advertisers from tracking your online activities and thus, blocks different types of ads letting you enjoy an ad free web experience so that you can view the content you're looking for without any restrictions.
With Ad-Blocker, you can ensure:
Watch only those ads which you want.
Get rid of Youtube Ads, Facebook ads and other methods of advertisements.
Safer and Faster browsing experience.
The Ad Blocker Addon is available free to download and is very easy to use. Simply download it and launch its extension on Chrome or Firefox. Now you can enable the settings for different types of ads.
Also See Our Featured Products