Resize Photos App – Crop & Resize photos on iPhone, iPad
Last Updated on October 9, 2018
One of the major problems faced by most of the Apple Users all over the world is STORAGE SHORTAGE.  Obviously, an iPhone offers a wonderful camera and there is no doubt if you have a gallery collection of thousands and thousands of pictures and videos. Apart from the high resolution pictures taken by the camera, it also consumes remarkable amount of storage in your device.

Do you know every smartphone that possess a huge collection of media in its device storage requires cleanup? If not cleaned up, it won't offer smooth functioning experience.. To cope up with this storage problem which you may encounter every month or even week is to organize your device. And, always running these question in your mind .. How?
How do I resize photos?
How to Resize a Photo on the iPhone?
How to reduce the file size of an iPhone photo?
How do I make a picture a smaller file size?
How do you change photo size on iPhone?
A number of apps are available on iTunes for Apple users to manage your device stuff (photos & videos) reduce the size of the photos. But those who are completely unaware how to alter the larger sized photos into the smaller ones, we would like to recommend  Resize Photos app for iOS".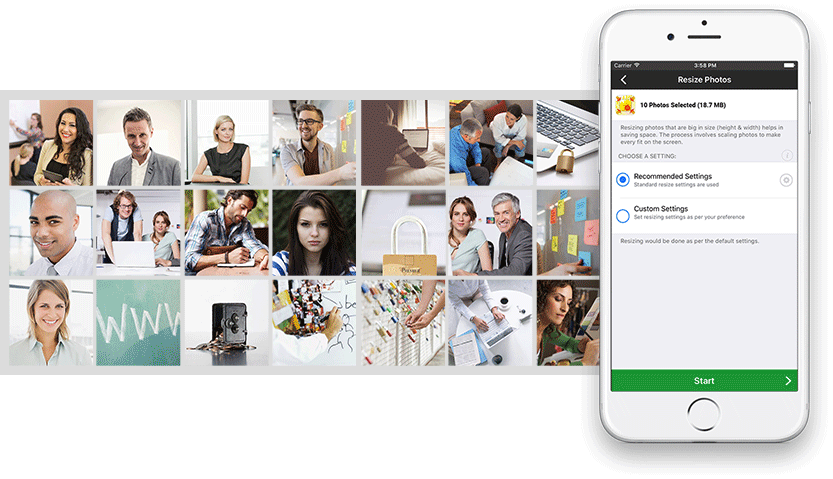 Resize Photos is an IOS app that allows you to reduce the frame size of the image in order to perfectly fit larger photos into small sized frames.  Using this app, you will have the control top resize the photos in the size you want. By reducing photos , they will take much less space on your device while maintaining their picture quality.
If you have thousands of pictures in your iPhone library, you can't do it yourself for such a large collection. It will take more time, efforts as well as device battery. So why not take help from an effective application that can manage it all for you!  Resize Photos app is the answer for you.
How will Resize Photos App help you?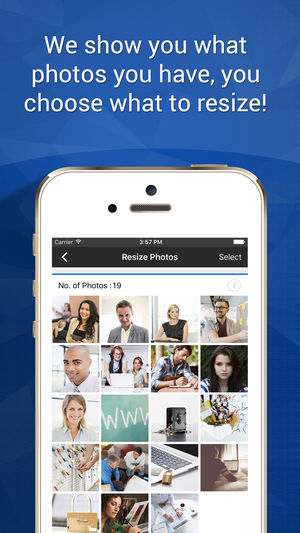 With the help of this Resize Photos app, you will be free to reduce the size of high resolution photos to whatever size you want. High resolution pictures are larger in size and generally take huge space in our device storage. Thus, you can easily resize the photos to a smaller size in order to fit them into different frames so that it becomes easy to store them.
Also, most importantly, it will free up chunks of space on your device making room for new clicks.
Furthermore, you can also share those pictures very easily with your friends and family members right from the app.
Why choose Resize Photos App for iOS?

The only drawback with the Apple devices is the short storage problem. Most of the iOS users own 8GB or 16GB iOS devices which today is very easy to be consumed with your huge gallery collection. This doesn't mean you should get rid of the phone or stop capturing moments. Instead use such a utility that will help you keep all photos or media files by resizing them into smaller picture frames so that you don't need to lose any of your favorite stuff.
Related Posts: