Duplicate Photo Cleaner Android App – Remove Duplicate Photos
Last Updated on September 7, 2018
Are you someone who doesn't get bored of taking selfies or photographs? We have observed millions of android users clicking similar type of pictures for more than ten times. This is how your device storage runs out of space. Do you get time to delete those unwanted or similar photos?
It seems to be a tedious task to find duplicate photos so here few question may in your mind:
How to delete duplicate photos on android?
How do I remove duplicate photos?
How do I delete duplicates in photo gallery?
Which is the best duplicate photos finder app
Which is the best Duplicate Photo Cleaner Apps for Android?
Here is a quick way to get rid of those time consuming jobs. You can use Duplicate Photos cleaner android app.
What is Duplicate Photos Cleaner Android App?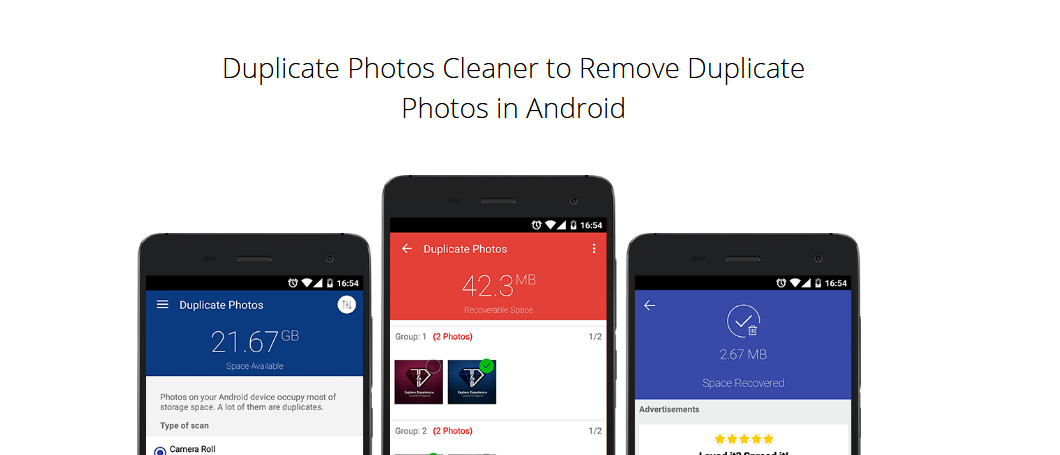 Duplicate Photos Cleaner app that scans your device for duplicate and similar photos and lets you remove them from the internal as well as external storage of your Android device. Duplicate photos cleaner android app is designed with the aim to organize your phone's gallery in a way that elimination of duplicate photos in the internal as well as external storage of your device becomes fast and automatic thus, making your phone' clutter-free.
Features of Duplicate Photos Cleaner app – Delete duplicate photos on android

Photos Duplicate Cleaner lessens the efforts used for searching your entire system for duplicate photos.
This app automatically detects the duplicates and identical images from your phones and lets you clean them. As a result, you'll save ample of space on your Android phone. Let's have a look at the power pack features of the app:
Scan Duplicate & Similar Photos
With this primary feature, you can scan for exact duplicates & similar photos hiding in every corner of your Android device. So you need not think twice before clicking a shot. This app will guide you delete duplicates in photo gallery.
Support for External SD Card
You have complete access to scan & remove duplicate photos from your Android device's external storage as well. So,  start organizing your digital memories the right way now.
Flexible Settings
For your convenience, it is quite simple to refine your search results and find duplicates. Just play around with the settings to easily detect duplicates on the basis of Matching Level, Time Interval & GPS.
How does Duplicate Photos cleaner work?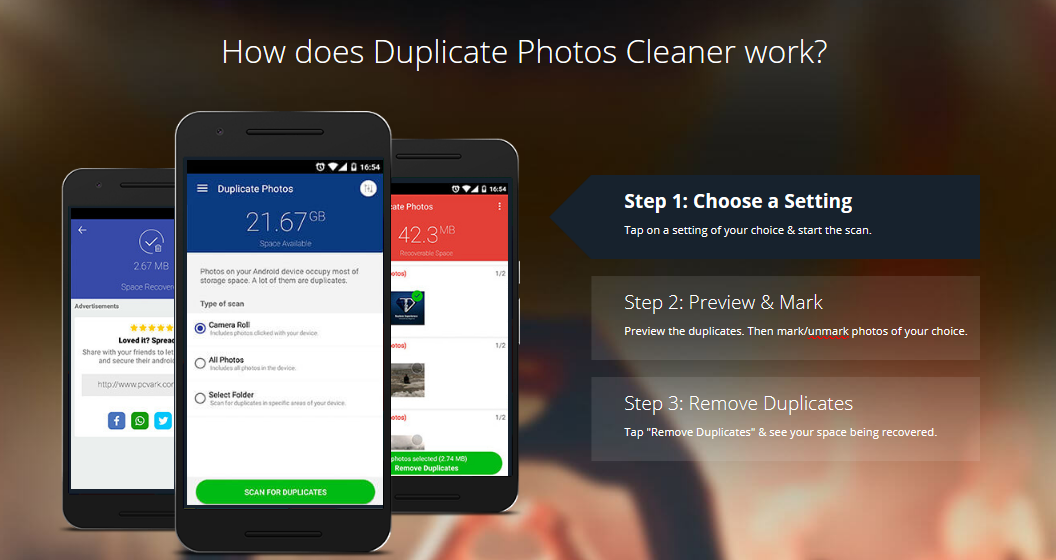 Duplicate Photos Cleaner automatically scans the photos in the internal and external storage of your device and remove duplicate photos in android. Here is how the app works:
Choose the type of scan you want. Duplicate Photos Cleaner provides you with three options:

All Photos
Camera
Select Folder
Now, you can choose any specific location from where you want to remove the duplicates and start the scan. This automated tool will provide you all the identical photos as a result of the scan.
Preview the scan to make sure you want to remove all those similar photos from your phone. Then mark the ones you want to remove.
Remove the duplicates. Once you have marked all the photos, simply tap on the "Remove Duplicates" button. All the similar kind of photos will be remove and your space will be recovered for use.
Duplicate Photos Cleaner is a big time saver that reduces your efforts and helps to recover storage on your smartphone.
Why Choose Duplicate Photos cleaner?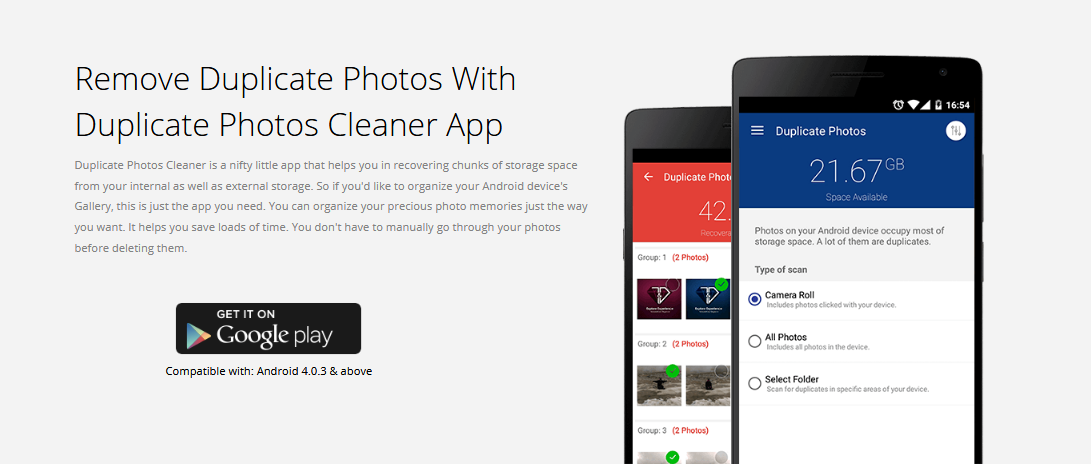 Obviously, this app is not a mandatory tool for your smartphone but it simplifies your task to sift through all the photos in order to find duplicate ones. This whole process will take few minutes in destroying the similar photos for you which far better than spending hours doing it manually in your extensive Photo Library.
Another Reason for using this application is a well organized photo gallery. Duplicate Photos Cleaner android app helps you in organizing your photos collection more effectively by removing duplicates photos in your device.
So if you want to organize your Android device's Gallery, this app is for you. You can organize your photo gallery just the way you want. It helps you save loads of time. It functions well for professionals, amateur photographers and the photo lovers who have a huge collection of photos in their smartphone.
Related Posts: