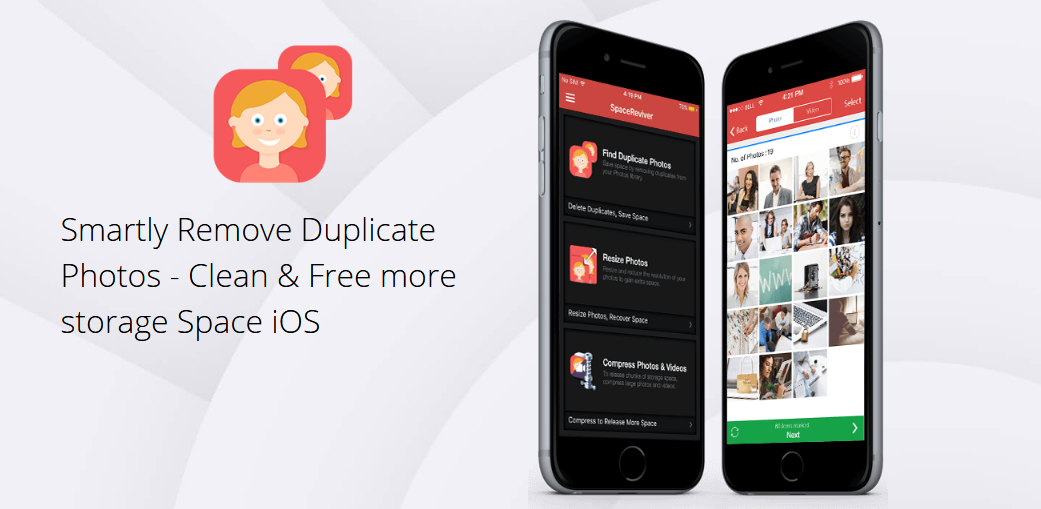 Space Reviver iOS App – Speed Up & Clean Up iPhone, iPad
Last Updated on September 26, 2018
How would you manage if someday the memory of your iPhone or iPad run out of storage? or more
How do I clean up storage on my iPhone?
How to Clear iPhone RAM Memory?
How do I clean up my iPhone memory?
Which app best for space saving for iOS?
How to free up space on iPhone,iPad or iPod Touch?
How to delete duplicate photos on iphone ios?
How to increase storage space on iPhone?
You may probably have to delete your precious photos in order to open the camera or check out the gallery. This way you will lose all your precious memories in no time and will regret that if you had installed any device cleaning utility earlier, this might not happen.

Why to wait for such a day in order to realize your mistake? Download Space Reviver for iOS today and free up the substantial storage on your device by removing duplicate photos, and managing the photos library with unique stuff in an organized and trimmed manner.
What is Space Reviver iOS App?
A space Reviver application that lets you organize your photos library by cleaning the junk and thus, recovering an extra room for capturing more memories. Once you install this app on your device, it will free up tons of space on your iPhone or iPad using its powerful features. This application is user-friendly and very easy to use. There are even more add ons if you wish to add. You can easily download it for free from here.
Features Of Space Reviver iOS App?

Space Reviver app is one of the best space saving utility that helps you to manage your iOS device storage with its salient features. Here are some of its important features:
Removal of Duplicates:
The best way to organize your photo library is to remove the similar photos. Space Reviver scans your photo library on your iOS device based on their matching level, time and GPS settings and let you remove them very quickly and conveniently. This will help you discover more space for usage.
Instant Photo Resize: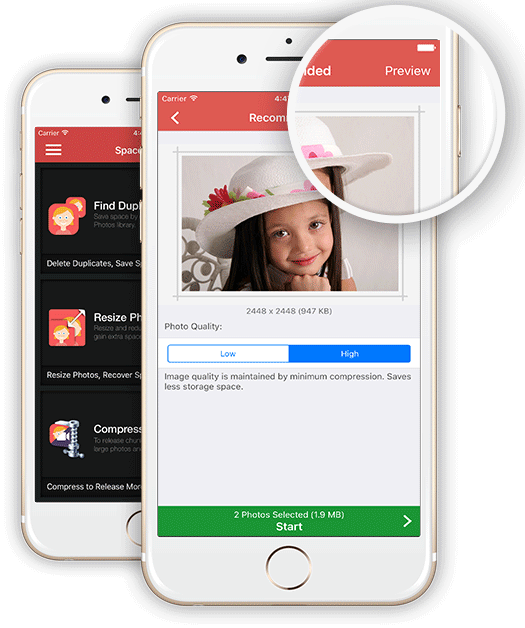 Another way to release space on your iPhone or Ipad is to resize the large file size photos. With Space Reviver, you can alter the size of the photos clicked on your device in order to fit them into smaller frames. This way photos with larger file size can be converted to smaller ones and are easy to upload on social medias and also consume less storage on your device , leaving storage free for use.
Compress Photos & Videos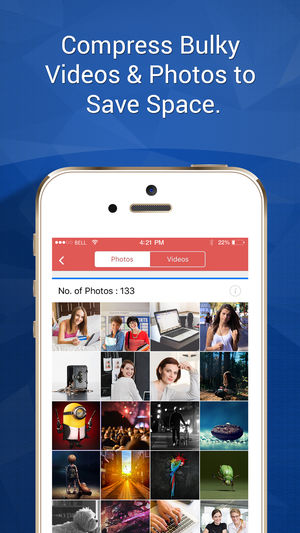 Did you know the videos you shoot consume a lot of space on your space? Maximum space occupancy in our devices today is due to videos and photos only. Therefore, it becomes really necessary to manage your device gallery in such a way that there is enough space for use as well as device functions smoothly. This is where Space Reviver comes into play. You can use this utility to compress those files which you don't want to delete but they are consuming much space on your iPhone.
Now easily compress your media files and save a substantial amount of storage on your smartphone. You can also mail those photos as well as videos to your friends or family in a short time. This is really big time, money and efforts saver.
Why Use Space Reviver App?
We have seen people ignoring the use of applications for cleaning device storage. They prefer to spend time in finding out images in fear to lose any important material. Don't you think this takes a lot of time and efforts?
Space Reviver iOS App is the right solution for you. It helps you trim down your Photos library on your iOS device so that you can capture more memorable moments wherever you go.
Related Posts:
Best iPhone Apps – iOS Apps for 2018
Ad-Blocker Pro App – Best Ad Blocker for iPhone and iPad on iOS