Free up Space App For iOS – Clean up Storage on iPhone
Last Updated on September 28, 2018
While updating your iOS device, you might face the issue that there isn't enough space on your iPhone, iPad or iPod touch, what's next? Most of us have run out of storage at some point and the only reason for maximum space coverage is by media files i.e. photos and videos. Also of course lots of question in your mind like..

How can I free up space in my iPhone?
How To Free Up Space on Your iPhone?
How to free up space on iPad?
how to free up space on iPhone?
What is the best iPhone cleaner app?
What is cleaning apps on iPhone?
How to free up space on iPhone?
How do I clear storage on my iPhone?
How do I free up storage space?
How do I free up photo storage on my iPhone?
But don't worry, we have solution for your problem.
Free Up Space app – world's first all-in-one space saving utility for iOS users. This app manages the storage available on your iPhone by freeing up space for new apps and photos.
What is FreeUpSpace iPhone App?
FreeUpSpace is a space saving app for your iOS device that performs jobs like  resizing photos, eliminating duplicates and compress photos & videos for you.. The main objective of the application is to recover space on your device so that you can utilize in a better way. With this app, you have full control on how to release space on your device.
The app offers you 3 power packed modules to well-organize your photo library and perfectly recover device space.
Features of FreeUpSpace App – Free up storage space on iPhone

If you are fond of capturing photos and selfies endlessly, this feature is for you This helps you easily find duplicate photos of all levels ranging from least similar to exact duplicates. You can customize the settings in order to check the duplicity level and get free up storage space on your device. For this, you can set time and gps criteria for high accuracy.
2) Resize Photos – Free up storage space

This is the best when you are looking for an alternative other than removing photos or videos from your iOS device. Using this feature, you can reduce the frame size of a photo captured in your iOS device. Thus, you can save a considerable amount of space by resizing large sized photos. There is no compromise with the quality of the image. Furthermore, you can make easily resize any type of image to make it perfectly fir for smaller frames.
3) Compress Photos & Videos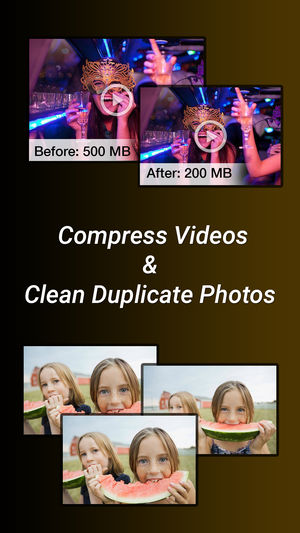 In order to save chunks of storage space, another excellent feature of Free Up Space is compressing photos & videos. So if you've shot a lot of videos & photos with your iPhone, don't forget to compress them when you're running out of storage space. You can easily share those compressed files with your friends via mail attachments and even through messaging apps without any difficulty
Benefits of Free Up Space App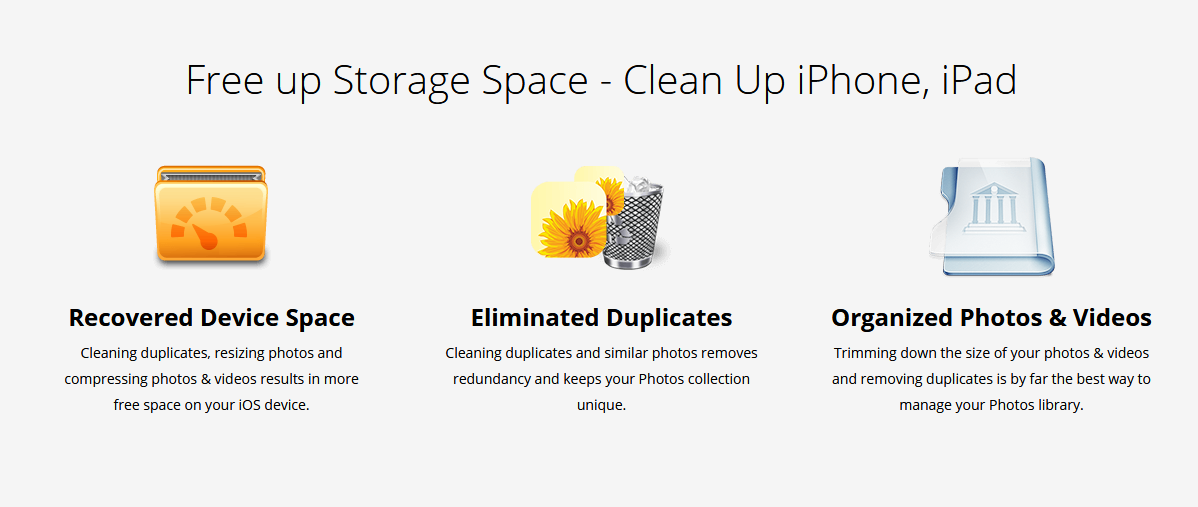 Free Up Space app is the most convenient way to find and eliminate identical photos from the device.
This app works best if you need to release space in order to capture more pictures.
Enjoy well-organized photo library.
Save on your internet data and easily share compressed photos and videos with your loved ones using small bandwidth.
Keep your content with you. No more loss of precious memories due to space shortage.
Why Use Free Up Space iPhone App?
We understand how much you love your photo gallery and we want to introduce you with the best solution to keep your gallery neat and clutter-free. Free Up Space iPhone app is known to be the world's first all-in-one space saving suite and is the best to slim down the photo library on your iOS device with its three powerful components. Download now and make the most out of this app!
Related Posts:
Best iPhone Apps – iOS Apps for 2018
Compress Photo iOS App – Reduce Photo Size on iPhone, iPad
Space Reviver iOS App – Speed Up & Clean Up iPhone, iPad
Ad-Blocker Pro App – Best Ad Blocker for iPhone and iPad on iOS