Ad-Blocker Pro App – Best Ad Blocker for iPhone and iPad on iOS
Last Updated on September 18, 2018
Do you like ads that intervene your focus while browsing? No wonder! We all hate ads and in order to offer you splendid browsing experience on your iOS device, or have question in your mind, like
What is the best ad blocker app?
Which is the best ad blocker?
How to Block Ads on iPad and iPhone
How do I block ads on chrome iPhone?
How to block ads on your iPhone or iPad
How do I turn off ads on my iPhone?
How do I stop pop up ads on my iPhone?
Can you block ads on iPhone?
How to block ads on iphone youtube?

So, you want to know how to block ads on iPhone. We have come up with an extra ordinary solution – The Ad-Blocker Pro app is a simple yet effective ad blocking app for iPhone and iPad users.
Ad-Blocker pro for iOS is an app that blocks all ads over the web so that you enjoy an excellent browsing experience. Every iOS user wants to have a fast and fair browsing experience on device. But the internet has gone too messy nowadays that we see tons of ads while browsing our favorite websites. How this happens?
Some website owners use trackers and when we browse., they track our activity and based on that , target ads on us. Now what we have to do is to block those trackers. In order to do so, we need to download best content blocker and that is why Ad-Blocker pro is the best option for all iOS users available on the App Store.
How To Use Ad-Blocker Pro For iOS?
When you download the Ad-blocker pro in your iPhone or iPad, it automatically gets installed into Safari once you enable it. It will provide you various control options like: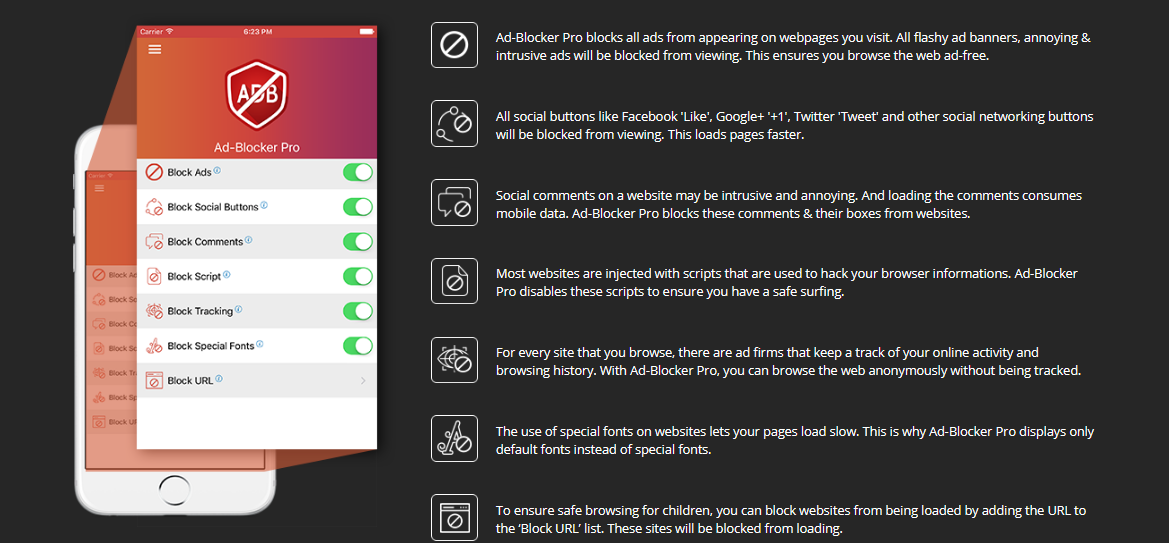 Block Ads
Block Social Buttons
Block Comments
Block Scripts
Block Tracking
Block Special Fonts
Block websites
In order to control the additional content, simply turn on the option and speed up your browsing.  With Ad-Blocker pro, you can browse ad free, more safe and fast and have a prolonged battery life.
Why Use Ad-Blocker Pro for iOS? (Best Ad Blocker for iPhone and iPad on iOS)
If you are one of those million users that are tired of sick ads, popups and videos, Ad-blocker is the best ever app you'll need. Ad-Blocker allows you to block ads on your iOS device.here are some of the features :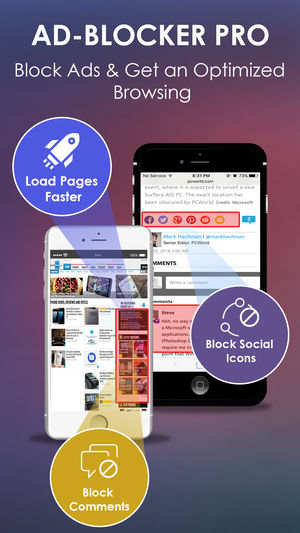 Ad-Blocker pro iOs speeds up your browsing by simply blocking ads and disabling tracking scripts injected into sites to track your online behavior.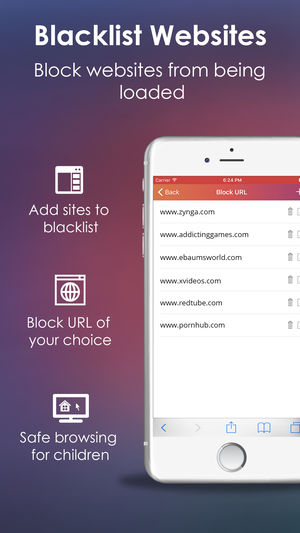 Ads are definitely annoying especially when they appear in between our favorite things.Then first thing come in our mind how do I stop pop up ads on my iPhone. Ad-blocker pro application ensures that you enjoy a seamless experience while surfing your favorite content anonymously without being tracked.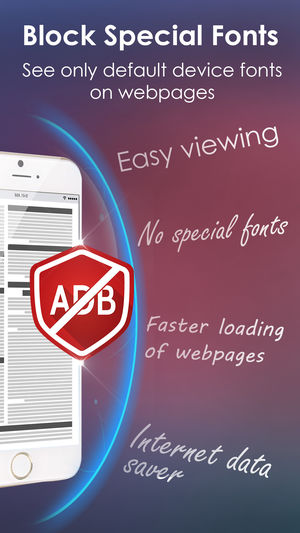 When the undesirable ads are blocked, it saves a considerable amount of data used by Ads for loading. Apart from this, it allows you to browse even faster.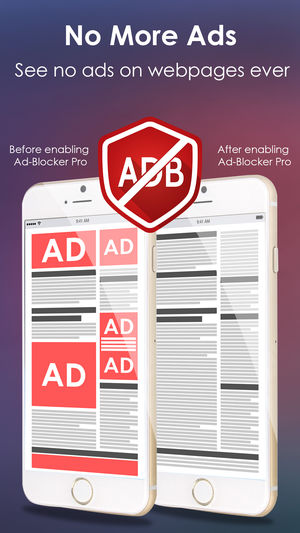 Ads slow down the page content like images etc thus, using an Ad-blocker pro application will significantly improves the loading speed of a website by removing those ads.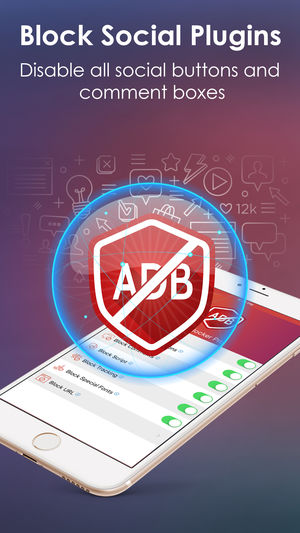 Many websites use social plugin icons like facebook "like", "comment boxes", "tweet" button on twitter and similarly "+1" in Google  which based on your browsing habits sends you notifications or content. With the help of Ad-Blocker pro app, you have complete control to restrict such content by blocking those social plugins. All social button will be thus, blocked from viewing your content and thus websites will load faster.
Related Posts: